Crowns are custom-fitted restorations which cover the visible part of a tooth. They are usually recommended when a tooth with a very large filling shows new decay or breaks off a cusp. A crown sits over a tooth somewhat like a thimble and holds the tooth together. A crown may also be recommended for a tooth with visible cracks or one that has significant discoloration. Crowns can help you change your smile by altering the shape of your tooth.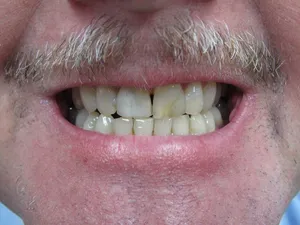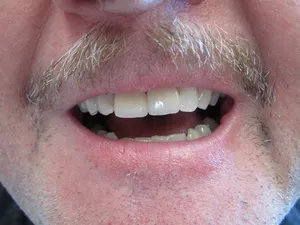 Before After
Crowns can be made from porcelain, porcelain fused to metal, or gold. Front crowns are usually made of porcelain since they are the most esthetic and can be best matched to blend in with your other teeth. Back teeth are usually crowned using a stronger material such as porcelain fused to metal. Gold is used when the strongest material is needed and esthetics are not an issue.
The process of fabricating a crown requires 2-3 visits. On the first visit the tooth will be reshaped by removing the enamel to allow room for the crown. You will be given a local anesthetic before this part of the procedure so that you do not experience any discomfort. Once the tooth has been reshaped, an impression of the area will be taken. This will be sent to a dental lab for crown fabrication. We will fit you with a temporary crown until your permanent crown is ready.

Within 2-3 weeks we will see you to place and fit the crown. It will be cemented and give the appearance of a real tooth. Crowns properly cared for are durable and will often last about 10-15 years. You should care for it as you would any of your other teeth with regular brushing and flossing. Call us today if you would like to learn more about how crowns can help restore your smile.